The children in your family may be relieved to hear that Father Christmas is insured at Lloyd's of London.

It was announced in 2010 that a policy had been written for Santa, providing him with protection against accident or illness in the run up to Christmas Day. It includes an indemnity clause which protects him should somebody sue for not receiving their presents.

Lloyd's also set up a 24 hour hotline for Santa in case he has an emergency – if he calls, arrangements can be made to evacuate him from anywhere in the world.

In order to activate the policy, Father Christmas must:

– Participate in a full medical examination
– Provide a flight map, detailing his exact route on the 25th
– Show International Aircraft Certification for his sleigh
– Allow a bloodstock specialist to inspect Rudolph et al.

(We've not made this up by the way!)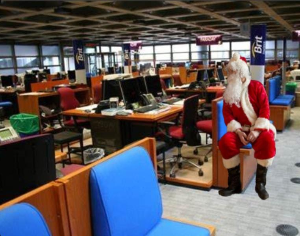 ​
Mariah Carey's voice was once insured at Lloyd's of London for $35 million.

The policy was taken out for her Sweet, Sweet Fantasy tour. She also insured her legs for the same amount in case she was injured and unable to perform. Mariah signed a contract for Gillette's 'Legs of a Goddess' campaign in 2006. The firm insured her legs at Lloyd's as a publicity stunt – for $1 billion.

Another voice you'll soon be hearing lots of over the next few weeks is that of Bing Crosby and like Mariah, he also insured his voice at Lloyd's. As part of his policy, he was told that he could not remove a node on his vocal chords as it was said to be the cause of his distinctive huskiness.

One man who wasn't dreaming of a white Christmas was William Yonkus, the owner of a jewellery store in Michigan. In 1995, he promised customers that anything they bought between November 20th and Christmas Eve would be refunded if three inches of snow fell on Christmas Day. He had studied snowfall patterns for 25 years and realised he had a 30-1 shot at losing.

Mr. Yonkus stood to pay refunds of $500,000 to 2,500 customers but luckily, snowfall stopped at two inches. He had taken out a prize indemnity policy at Lloyd's – just in case!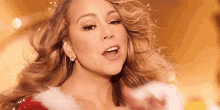 Lloyd's Christmas Choir

Here's a photograph of the Lloyd's Choir singing during a Christmas concert at the Royal Exchange. It took place during the lunch-hour of 15th December, 1925.

The pianist on the day was an underwriter's clerk. He played alongside members of the London Fire Brigade Band with a choir consisting of 120 men and women who worked for Lloyd's as underwriters, clerks and typists.

The Daily Mirror newspaper featured the concert on its front page the following day and wrote:

"In the front row was a Royal Air Force boy in uniform, a grey-haired man from the streets in cloth cap and choker who applauded enthusiastically and one or two working women who might have been office 'chars' or caretakers. Many carried shopping parcels or lunch packets. It was a microcosm of the City's daily life"

Amongst others, the choir sang 'Good King Wenceslas', 'I Saw Three Ships' and 'In Dulci Jubile'. The audience was invited to join in the carol 'O Come All Ye Faithful' and was said to do so 'with fervour'.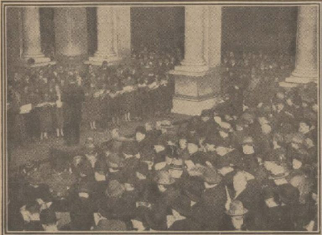 'Santa to the stars' & the world's most expensive Christmas bauble

The Santa pictured below is insured at Lloyd's of London against the risks associated with sliding down chimneys.

His name is Brady White, otherwise known as 'Santa to the Stars'. Elizabeth Taylor, Sylvester Stallone, John Travolta and Kim Kardashian all sat on Brady's knee after they hired him to visit their homes on Christmas Day. His beard has been insured at Lloyd's since 1992:

"All sorts of things can happen to Santa's beard and I wanted to know that it was protected. Children can be a little rough so it gets tugged and pulled a lot, and then there is the soot and the danger of being singed when I head down the chimneys"

The world's most expensive Christmas bauble was created by a father and son from Ohio. At 8.5 inches tall, it has a nativity scene mounted on a gold and platinum disk and a diamond Star of Bethlehem. The 5.5 carat diamond is flawless and is surrounded by 13 smaller stones. White gold wires create the rays from the star and platinum wires extend from the bottom of the star, creating longer rays.

It was displayed at the Center of Science and Industry in Columbus in 1982 and insured for the event at Lloyd's for $100,000. As part of the coverage, it had to be protected at all times by security guards.