HFG have always supported diversity within the insurance industry. Historically the insurance industry has been built and established predominantly through a veritable network of 'boys clubs'. Therefore, HFG identified that there was a need to provide a network for the female workforce to come together to offer support, networking and advice away from the office environment.
Our events consist of a theme (wine / cheese tasting, jazz night etc.), speakers from the insurance industry, a charity raffle and networking session – all held in a local venue in the heart of the insurance industry. These event provide an opportunity to gain an insight into the careers of senior level insurance professionals and also the ability to network with colleagues and peers.
PREVIOUS EVENT: WEDNESDAY 19th April 2023 – The Happenstance, Paternoster Square.
In April 2023, HFG hosted our latest Women in Insurance event at the Happenstance Bar in Paternoster Square.
The evening comprised of live jazz music, industry speakers, drinks, food and networking.
Our speakers were:
Chelsey Sprong: Chelsey is Beazley's Inclusion Partner responsible for creating, embedding and driving forward the inclusion and diversity strategy across all international offices. Chelsey is passionate about using her position to enable real, sustainable and measurable progress in the diversity and inclusion space all underpinned by relevant data. Her strength lies in collaborating with business leaders to create bespoke solutions to garner genuine commitment to change.





David Brown: David has over 25 years of actuarial experience and is a recognised industry expert in Insurance including pricing, reinsurance, reserving, risk management, governance and Solvency 2 reporting and capital requirements. Currently an independent consultant, his previous roles have included being an actuarial partner at KPMG, and Actuarial Director at Direct Line Group. But is he just another beige man in an industry dominated by other beige men?
​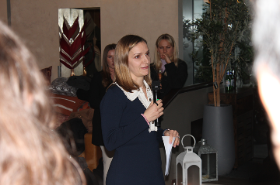 Alice Kaye is Chief Operating Officer at Inigo, a Lloyd's syndicate that launched in 2021. She joined the London insurance industry as an actuary, working initially in GI and then in Life & Health. Alice pivoted into reinsurance underwriting, first in Paris and then back in London, before joining Inigo in their early months. Alice is an insurance enthusiast, and on top of that a huge proponent of making the industry a fantastic place for us all.
Every event HFG hosts is in aid of charity, and we were delighted to raise £525 for Refuge - for women and children. Against domestic violence.
If you would like to get involved with our Women in Insurance events, either as a speaker or to attend, please email: marketing@hfg.co.uk or join our LinkedIn group: by clicking here.