With Euro 2020 finally getting underway, the next in our 'Insurance Stories' series looks at infamous tales of football and insurance.

Gascoigne's tackle

This tackle in the 1991 FA Cup Final almost cost Lloyd's of London £5 million. Paul Gascoigne was insured by Tottenham Hotspur for that amount against an injury that would prevent him from playing again. He also held other policies with insurance firms that put his total insurable value up to £8 million.

The magic of the FA Cup

In 1875, Lloyd's underwriter Alfred Lubbock won the FA Cup with Old Etonians. Five years after that, Robert Ogilvie, the chairman of the Institute of Lloyd's Underwriters was also part of an FA Cup winning team when he played for Clapham Rovers.

A few years later, in September 1895 and following Aston Villa's win over West Brom in the final, the original FA Cup was stolen from the window of William Shillcock's sports shop in Birmingham where it was being displayed. It was never recovered and Villa were fined £25 by the Football Association. They didn't mind paying that too much though – they had insured the trophy at Lloyd's for £2,000.

World Cup winners in insurance

When England won the World Cup in 1966, hat-trick hero Geoff Hurst, captain Bobby Moore and goalscorer Martin Peters were each insured for £50,000 against career ending injury. The Jules Rimet trophy that Bobby Moore lifted that year was also insured at Lloyd's – for £30,000.

Not knowing what to do when he retired from football, Geoff Hurst began selling insurance. Working for Abbey Life, a story goes that a customer on the telephone said 'Well if you're Geoff Hurst, I'm Marilyn Monroe."

The other scorer in the 4-2 victory was Martin Peters. A few years after he began working in insurance, Sir Geoff bumped in to Peters in a pub and they began speaking about their careers. At this point, Peters decided to join Hurst at his new employer, a motor insurer called Motor-Plan. Motor-Plan was subsequently bought by London General Holdings and Sir Geoff was made a director of the company. That firm was then bought by Aon where he was made Managing Director of the Domestic Appliance Division.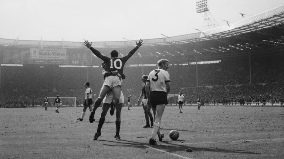 Insurance at Arsenal

Cliff Bastin and Eddie Hapgood travelled to Italy to represent England in 1933. Their club, The Arsenal, insured them at Lloyd's of London for the trip with a £14,000 policy. The 16-man squad was also covered by the F.A. in the event that they were 'incapacitated'. If they were, a claim of £84,000 would have been made.

Arsenal player Bernard Joy was the last amateur footballer to represent England in 1936 and in 1937, he travelled with the England amateur squad for a tour of Australia and New Zealand. The squad were insured for that tour against everything except marriage. Apparently, that would have made the policy too expensive (!).

By 1954, the insurable value of footballers had increased significantly. The Arsenal travelled to Moscow where they would become the first British team to play in Soviet Russia, in a friendly against Dynamo Moscow. The crowd of 75,000 saw Arsenal get a football lesson, with the game ending up 5-0 to Moscow. This time, the squad of 16 and 7 backroom staff were insured at Lloyd's for £500,000.